Ever since 2020 I've been saying that if you have COVID mask up when you go out. But who listened? Those who had decided to live or not be hospitalized. I know of one loon who masked up, double masked, refused to dump the animal litter for a month at a time, boarded up their windows, and got shots out of the wazo. Still got COVID.
CNN, MSNBC, ABC,NBC,CBS, and all the other media outlets now know where to go for trusted news. Unlike a part time meter maid who suddenly became a medical expert, I did my research and went to the sources. Cleveland Clinic, Johns Hopkins, and a mask manufacturer who will remain nameless for fear of doxing and harassment from Zealots.
A few tips. talk to your doctor about ending their isolation . When testing positive wear a mask when going out.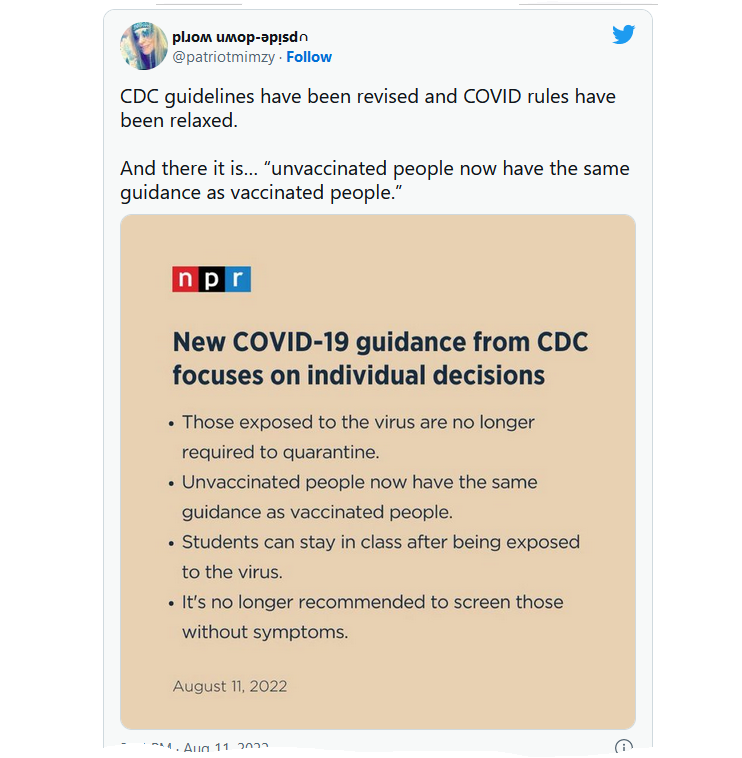 https://twitter.com/patriotmimzy/status/1557818904076058632?ref_src=twsrc%5Etfw%7Ctwcamp%5Etweetembed%7Ctwterm%5E1557818904076058632%7Ctwgr%5Ef698c143796d414d715ae952f74c2c0876381673%7Ctwcon%5Es1_&ref_url=https%3A%2F%2Fwww.breitbart.com%2Fpolitics%2F2022%2F08%2F11%2Fcdc-ends-differentiation-of-unvaccinated-in-new-coronavirus-guidelines%2F