When I heard that progressives were ridiculing others, I thought someone else found that obscure website. But no here's what happened.
Los Angeles Democrat City Council President Nury Martinez was caught on a leaked audio saying a fellow Democrat Mike Bonin's black son was "like a monkey." Martinez also had this to say about Soros-funded radical DA George Gascon, "F**k that guy. He's with the blacks."
She's still in office. Democrats don't care about their party's racism. They don't force racists to resign. It's called Democrat privilege. Mike Bonin is a gay politician. At least she didn't call him a Q. Like some dude who outed his brother and mom just giggled about it.
https://twitter.com/BillFOXLA/status/1579264371443712000?ref_src=twsrc%5Etfw%7Ctwcamp%5Etweetembed%7Ctwterm%5E1579264371443712000%7Ctwgr%5E0ce5029c2c7aa6baa6c5a2706bafe6c88a701f69%7Ctwcon%5Es1_&ref_url=https%3A%2F%2Fwww.thegatewaypundit.com%2F2022%2F10%2Fla-city-council-president-says-fellow-democrats-black-son-like-monkey-says-da-george-gascon-fk-guy-blacks-audio%2F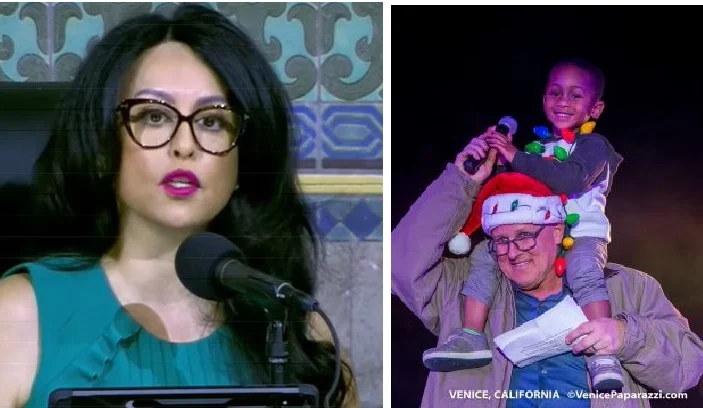 The LA Times reported:
Three Latino members of the Los Angeles City Council and a top county labor official held a conversation last fall that included racist remarks, derisive statements about their colleagues and council President Nury Martinez saying a white councilman handled his young Black son as though he were an "accessory," according to a recording of the meeting reviewed by The Times. Martinez, while discussing Councilman Mike Bonin's child, said, "Parece changuito," or "He's like a monkey," soon afterward. Advertisement - story continues below A few minutes after Martinez discussed Bonin's son, the topic of conversation moved to Los Angeles County Dist. Atty. George Gascón, who was facing growing political opposition. "F— that guy," Martinez said, followed by something inaudible. "He's with the Blacks."
Martinez later apologized for her racial slurs.
I'm sure that afterword they all hugged and made up.