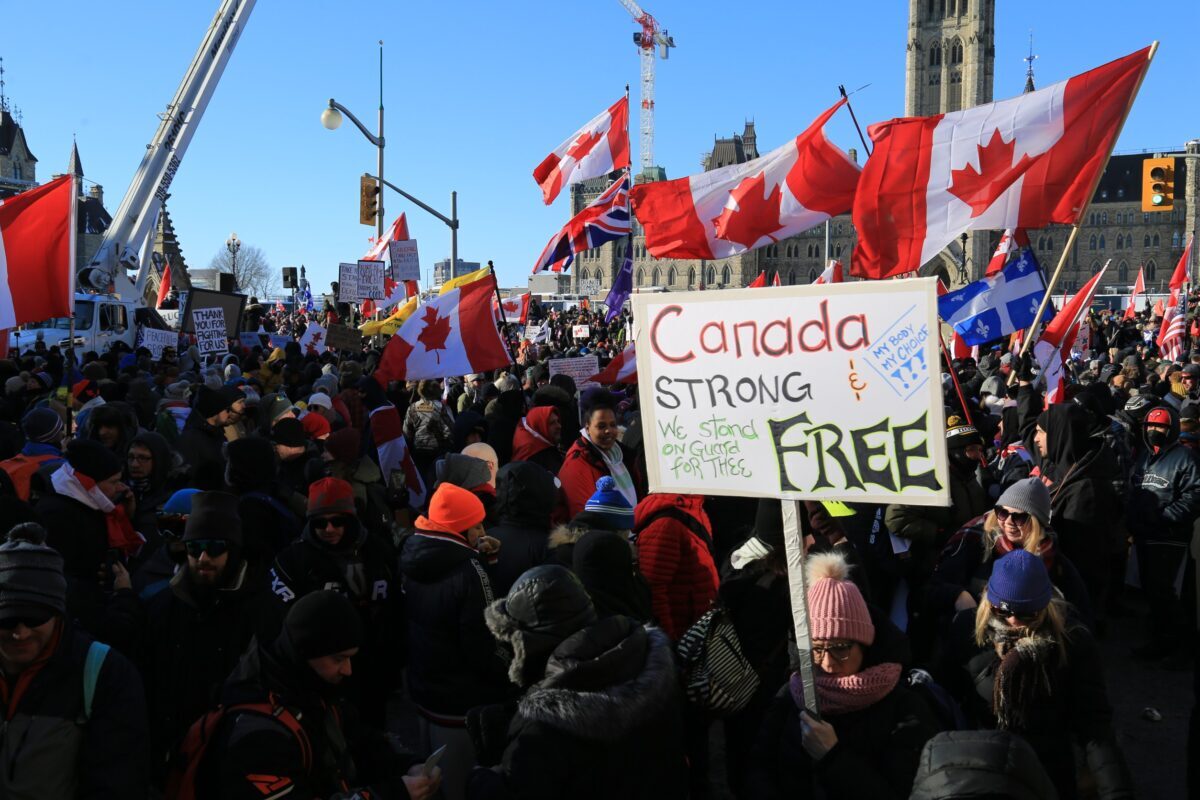 Organizers say the convoy will stay in Ottawa until demands for lifting COVID-19 mandates are met
By Limin Zhou and Andrew Chen for Epoch Times Jan 30, 2022
OTTAWA—The "Freedom Convoy" protests continued overnight and into Sunday Jan. 30 in Ottawa, with trucks and vehicles still parked in the city's downtown core, and people gathered on Parliament Hill, with some setting off fireworks at night.
Protest organizers say they will stay in Ottawa until their demands for lifting COVID-19 mandates are met.
Truck horns continued to be heard honking intermittently on the second day of protest in the nation's capital, with people walking around carrying Canadian flags as well other flags and signs.
The event, which started on Saturday Jan. 29, drew thousands of supporters from across the country. The Parliament Hill area as well as nearby streets on Saturday were packed with people.
A spokesperson for the Ottawa Police Service told The Epoch Times it won't give an official estimate of the number of people who have come to the city for the protest until the demonstrations are over. Police also refused to confirm how long they are expecting the protests to last.
Protest organizers said at a news conference on Jan. 30 that they've lost count of how many trucks have joined the protest, saying as one example, one convoy heading from the West of the country had around 1,000 vehicles. Protest organizer Benjamin Dichter also noted that the protesters have been peaceful.
In a statement on Jan. 30, police said there have been "no incidents of violence or injuries reported."
"Police are patrolling throughout the downtown core, managing the movement of protestors and trucks," Ottawa police said.
After some protesters put Canadian flags and signs on the Terry Fox statue, and some vehicles were parked by the National War Memorial, police said they "took steps to protect these areas," stressing that "they should be respected at all times." Criminal investigations into the incidents are ongoing, police said.
Police also said they encountered some challenges with demonstrators overnight, including "sporadic road blockages by trucks," but the situations were "de-escalated and resolved with no arrests."
Protest organizers say the media have been trying to portray the movement in a negative light. They said they also sent some people to the monuments to see what is happening and keep an eye on things.
Freedom Convoy 2022 began as a protest against the federal government's vaccine mandate for truck drivers crossing the U.S.-Canada border but has since expanded in scope, with many joining the movement to protest various COVID-19 restrictions and mandates.
Many protesters who spoke with The Epoch Times noted how peaceful the protests have been.
"It's everyday, ordinary Canadians here, circling around the Parliament Hill and flying their flags," said Terri Haydar, a retired corrections officer from Toronto.
Sandor Szollosi, a truck driver from Calgary, said he leads an active life and is involved in different sports. But with the mandates and restrictions in place, he hasn't been able to go swimming or do other sports activities.
"I feel frustrated because I feel that my freedom is just … taken away from me," Szollosi said in an interview.
Kim Brock, who came from Belleville, Ont., said she came to Ottawa to fight for "freedom of choice."
"I feel that people shouldn't lose their jobs over the vaccine mandate because of the fact that the vaccine doesn't stop the spread, nor does it stop me from getting it," she said.
The first convoy started from the West Coast on Jan. 23, with more trucks joining from different parts of the country, coming together to protest in the nation's capital this weekend and into next week.
Several other convoy trucks and protests were held on Jan. 29 in solidarity throughout the country, including on roads and by provincial legislatures.
A GoFundMe account set up to support the convoy had collected close to $9 million as of the morning of Jan. 30.