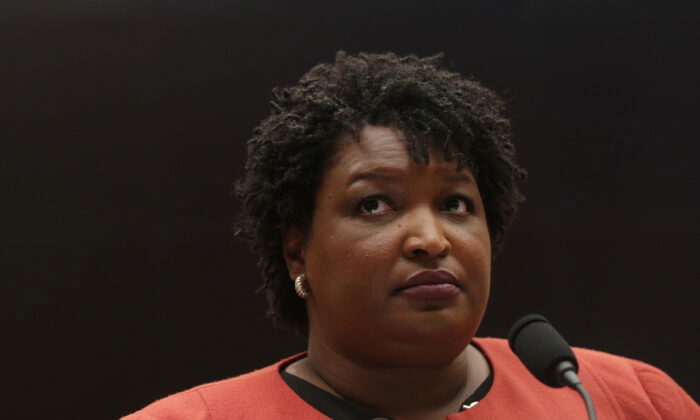 The campaign of Georgia gubernatorial candidate Stacey Abrams responded Feb. 6 after rivals attacked the Democrat for posing maskless in a room full of masked children.
"It is shameful that our opponents are using a Black History Month reading event for Georgia children as the impetus for a false political attack, and it is pitiful and predictable that our opponents continue to look for opportunities to distract from their failed records when it comes to protecting the public health during the pandemic," the campaign said in a statement.
The photograph in question was posted by the principal at Glennwood Elementary School in Decatur after Abrams visited on Feb. 4.
Abrams was the only person in the picture, which included children and faculty in an indoor room, without a mask.
The principal deleted the picture and her Twitter account after Georgia Gov. Brian Kemp and former U.S. Sen David Perdue, two Republicans running for governor, criticized Abrams.
"Stacey Abrams wants state government mask mandates for Georgians and their children. But it looks like they wouldn't apply when she's attending a photo op," Tate Mitchell, the Kemp campaign's press secretary, said in a statement. "This kind of hypocrisy is exactly why Georgians see her campaign for governor for what it truly is: a quest for more power."
"We all know Stacey Abrams' hypocrisy knows no bounds. Liberals' thirst for power during this pandemic has caused enormous damage to our kids, while the elite like Stacey continue living their lives. What is even worse is that this is a classroom in Brian Kemp's GA, not NY or CA," Perdue added.
Abrams' campaign didn't immediately respond when asked why the Democrat wasn't wearing a mask. The school didn't immediately respond to an inquiry.
The campaign told the Atlanta Journal-Constitution that Abrams was wearing a mask but took it off so that she could be heard while reading to children and while posing for pictures while stipulating that everybody else in the room keep their mask on.
A spokesman also said Abrams thinks schools should require masks for students and staff members. The campaign took the opportunity to attack Perdue, noting that he traded stocks shortly after receiving private briefings as a senator early in the pandemic, and Kemp, who was described as having "attacked mayors seeking to protect their citizens."
Kemp and former Atlanta Mayor Keisha Lance Bottoms, a Democrat, clashed last year over the city's mask mandate, with Kemp issuing an executive order barring all local governments in the state from imposing mask or vaccine mandates.
---
In other words: "The rules are for thee, but not for me."