During an exchange at the House Committee on Oversight and Reform hearing exploring the "threat to American democracy posed by white supremacist ideologies," Mace asked the six witnesses whether they thought harsh political rhetoric posed a "threat to democracy." All six of the loons said yes. They then were shocked to see what happened next.
Rep. Mace then confronted trans activist Alejandra Caraballo with several of her tweets calling for violence against Supreme Court Justices. Rep. Byron Donalds (R-FL) then confronted Caraballo on her attacks against American parents who don't want their children to be victims of grooming in the classroom.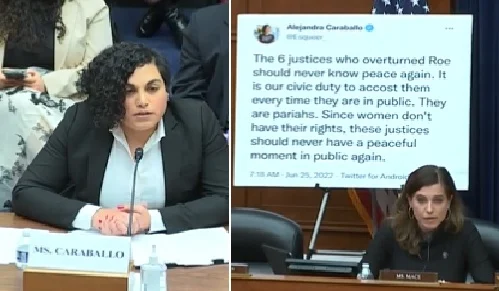 https://twitter.com/againstgrmrs/status/1602729325396123648?ref_src=twsrc%5Etfw%7Ctwcamp%5Etweetembed%7Ctwterm%5E1602729325396123648%7Ctwgr%5E7676a1786ff43766976222348ce3c349dcd97565%7Ctwcon%5Es1_&ref_url=https%3A%2F%2Fwww.thegatewaypundit.com%2F2022%2F12%2Fbrutal-gop-reps-ask-trans-activist-extremist-rhetoric-online-leads-violence-posts-several-violent-tweets-radical-trans-activist%2F
I've always said that hate speech from the left if not confronted will lead to violence and killings. One only needs to look at Progressive groups like ANTIFA and BLM.
https://twitter.com/MrAndyNgo/status/1602723204207886342?ref_src=twsrc%5Etfw%7Ctwcamp%5Etweetembed%7Ctwterm%5E1602723204207886342%7Ctwgr%5E7676a1786ff43766976222348ce3c349dcd97565%7Ctwcon%5Es1_&ref_url=https%3A%2F%2Fwww.thegatewaypundit.com%2F2022%2F12%2Fbrutal-gop-reps-ask-trans-activist-extremist-rhetoric-online-leads-violence-posts-several-violent-tweets-radical-trans-activist%2F