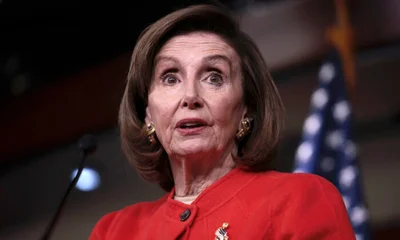 House Speaker Nancy Pelosi (D-Calif.) speaks at her weekly press conference at the U.S. Capitol Building in Washington on Dec. 8, 2021.

After months of speculation on her future in Congress, House Speaker Nancy Pelosi (D-Calif.) on Tuesday announced she is running for reelection. In a video posted online, Pelosi said, "I am running for reelection to Congress and respectfully seek your support," explaining that she believes her reelection could bolster Democrats' and President Joe Biden's agenda. "While we've made progress," she added, "much more needs to be done to improve people's lives."
She also invoked the Jan. 6, 2021 Capitol breach as another reason why she's running again.The 81-year-old, who was first elected to the House in 1987, was the first woman to serve as House speaker and was expected to step down, particularly as her party braces for the potential loss of its majority in the 2022 midterms. In November 2020, Pelosi reiterated that her current term as House speaker would be her last. Based on her Tuesday announcement, it's not clear if Pelosi will again seek the House speaker position. During several interviews in 2021, Pelosi sought to downplay speculation that she would retire from office.
"People make their own decisions about timing" and "don't have to comply with somebody else's view," she told MSNBC in June 2021, without elaborating. And months later, in October, Pelosi demurred when a CNN reporter asked about the retirement speculation. It comes as some members of the House Democratic caucus have publicly suggested the idea that Pelosi hand over her leadership reins to a younger, fresher face. Self-described socialist Rep. Alexandria Ocasio-Cortez (D-N.Y.) can be counted among those, who told news outlets in 2020 that new leadership is needed. Pelosi's reelection bid might also be designed to prevent her Democratic caucus from further hemorrhaging members. Also on Tuesday, longtime Rep.
Jim Cooper (D-Tenn.) announced he would not seek reelection after his congressional district was redrawn. "You backed me more than almost anyone in Tennessee history, making me the state's third longest-serving member of Congress," said Cooper, who spent 32 years in office. With Cooper's decision, it means that at least 29 Democratic lawmakers are retiring in 2022. In mid-January, Rep. Jim Langevin (D-R.I.) and Rep. Jerry McNerney (D-Calif.) both announced their retirements.
For 2022's midterms, Republicans need a net gain of five seats in the 435-member House of Representatives. On average, the party that wins the White House during a presidential election loses House seats in the forthcoming midterm election. Republicans at the time said that the latest announcements were signs that the Democrats' party majority is at risk.
"Nobody wants to run as a House Democrat because their majority is doomed," Mike Berg, spokesman for the National Republican Congressional Committee, said in a statement earlier in January.