Anyone posting a threat especially against a law enforcement officer or politician will be banned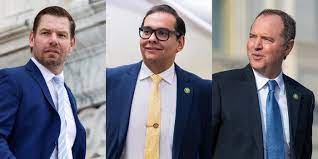 Santos, Schiff, and Swalwell. Expel all three? The Democrats are going crazy over Santos cause he's still in Congress. Yes he's been charged, but not found guilty. He deserves a trial.
But yet you have two democrats who lied under oath to Congress. One who was banging a Chinese spy. And the other who used Russian misinformation to try and impeach a President twice. Senate shot that down.
So what say you? I say all or none.

This work is licensed under a Creative Commons Attribution-ShareAlike 4.0 International License.