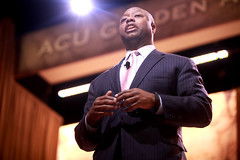 No House Negroes Allowed. Tim Scott says this. Dems 'lose their minds' when Trump talks about helping minority communities. Let's face it, Senator Scott doesn't eat at Popeye's daily by the bucket. He doesen't drink Orange drink by the 55 gallon drum. And he doesn't tell blacks to go on welfare or get a Union Job. But he does support President Trump.
"There's a meme with a brain that explodes, that's what happens when President Trump starts talking about bringing back more resources to the most vulnerable folks."

"When he starts talking about the lowest Hispanic unemployment rate, when he starts talking about the highest increase in wages came from the poorest Americans who are working -- the story of the American comeback is a story that starts at the most vulnerable, fragile people on the economic ladder and moves up."
What say you?