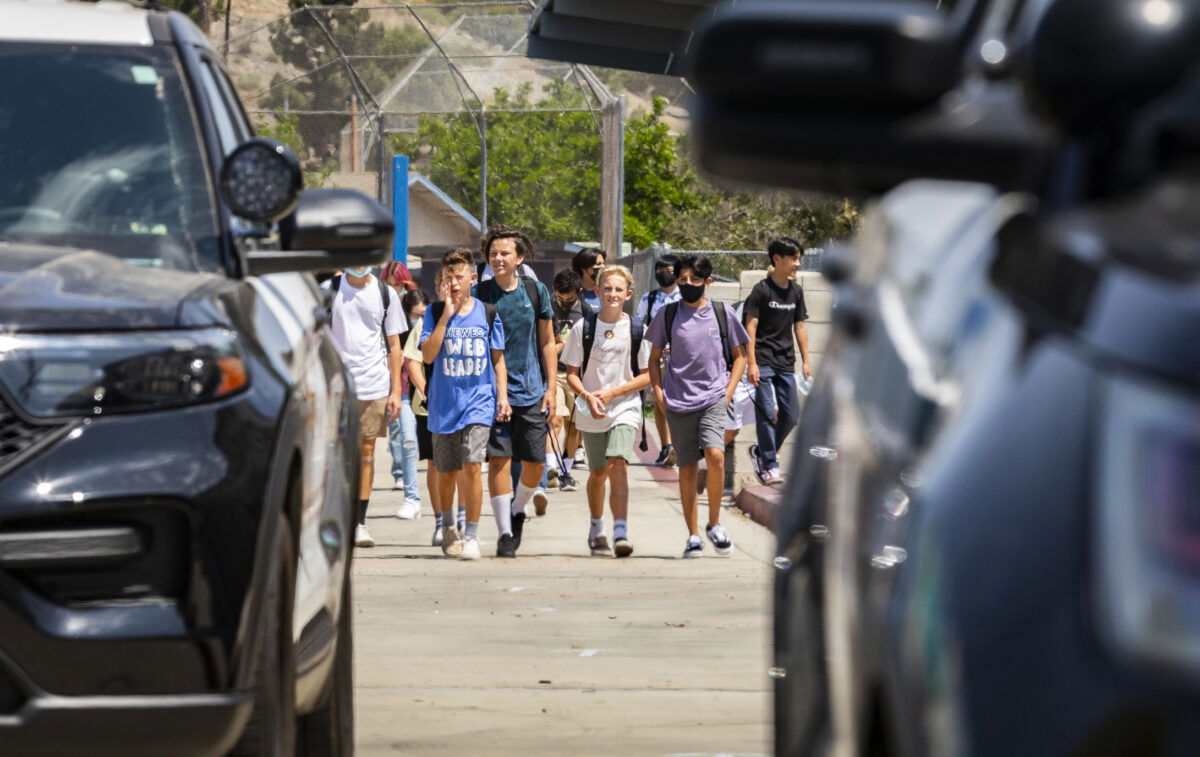 Students at Hewes Middle School leave for the day in Tustin, Calif., on Aug. 12, 2021. (John Fredricks/The Epoch Times)
By Vanessa Serna for Epoch TImes February 4, 2022
Some California parents are either fighting or fleeing the state after uncovering sexually explicit sex education for children, including how to use sex toys, masturbate, and perform oral sex.
Sex education, including learning about contraception and how to prevent STDs, or sexually transmitted diseases, has been turned on its head in the last handful of years and has morphed into the teaching of sexuality, according to Stephanie Yates, a mother of four.
"If a school teacher taught this outside of school, they would be arrested, prosecuted, sent to prison, and then when released, put on the sex registry list," Yates told The Epoch Times.
The framework—so called because it provides only guidance for schools and teachers—follows the recommendations of the California Healthy Youth Act passed by the Legislature in 2015 with the intention of providing students information to avoid unintended pregnancies and to develop healthy attitudes towards growth, sexual orientation, gender, and relationships.
Only recently, when COVID-19 forced students into online-only instruction did some parents learn today's sex education in California seems to have gone way past the "facts of life." "
Parents do not know what is being taught," Yates said. "They think it's just the regular birds and the bees about anatomy, the basics of how babies are made."
School districts can pick and choose from the framework what they want in their curricula as long as they comply with the state's mandatory standards, which include providing students with the knowledge to make decisions regarding sexuality; how to deal with sexual peer-pressure and helping them with gender identity, gender expression, and sexual orientation, according to the state education code.
Yates attempted to receive answers regarding the curriculum from her school, but was unsuccessful. In a fight to be heard, she protested multiple times in Sacramento.
Fed up, she decided to pick up her family and move out of the state near the end of 2021.
"It's not really a safe place to raise children at all," she said. "I needed to do what I needed to do to protect my kids."
Gracey Van Der Mark, a parent whose children attended schools in Ocean View and Huntington Beach districts, has also tried to have the state remove explicit books from the approved-for-use list.
One such book for grades four through six is entitled "Sex, Puberty, and All that Stuff, A Guide to Growing Up," by Jacqui Bailey.
That book discusses masturbation in detail and explains how to achieve sexual pleasures with others. "
I was shocked by the material that I saw," Van Der Mark told The Epoch Times. "I thought I was involved and informed and I had no idea."
Van Der Mark also came across teacher materials that linked to a website called Teensource.org, which allows teenagers to sign-up to receive advice, locations of free sexual clinics, and where to find free condoms—all via text message.
The website further elaborates on alternative sexual acts, such as the pleasures of oral sex, fingering, and hand jobs.
It is unknown which schools, if any, share these websites with students.
Ocean View said it has not.
"We've tailored our sex education curriculum to exactly what is appropriate for our students," Ocean View School Board President Gina Clayton-Tarvin told The Epoch Times.
Van Der Mark, who has run for seats—and lost—on both the Huntington Beach City Council and Ocean View School Board flew to Sacramento to voice her concerns at a California Board of Education meeting in March 2019.
While there, she protested by reading aloud excerpts—regarding sexual acts children can do to achieve sexual pleasure—from Bailey's book when Shirley Weber, who was then a California state assemblywoman, refused to meet with her.
"It teaches [students] how to give oral sex in a lot of detail," Van Der Mark, who dropped by the assemblywoman's office unannounced, said. "This is a book that the California Department of Education thought was appropriate for our fifth-grade classes."
The Epoch Times reached out to Weber, who is now secretary of state, but did not receive a comment by press deadline.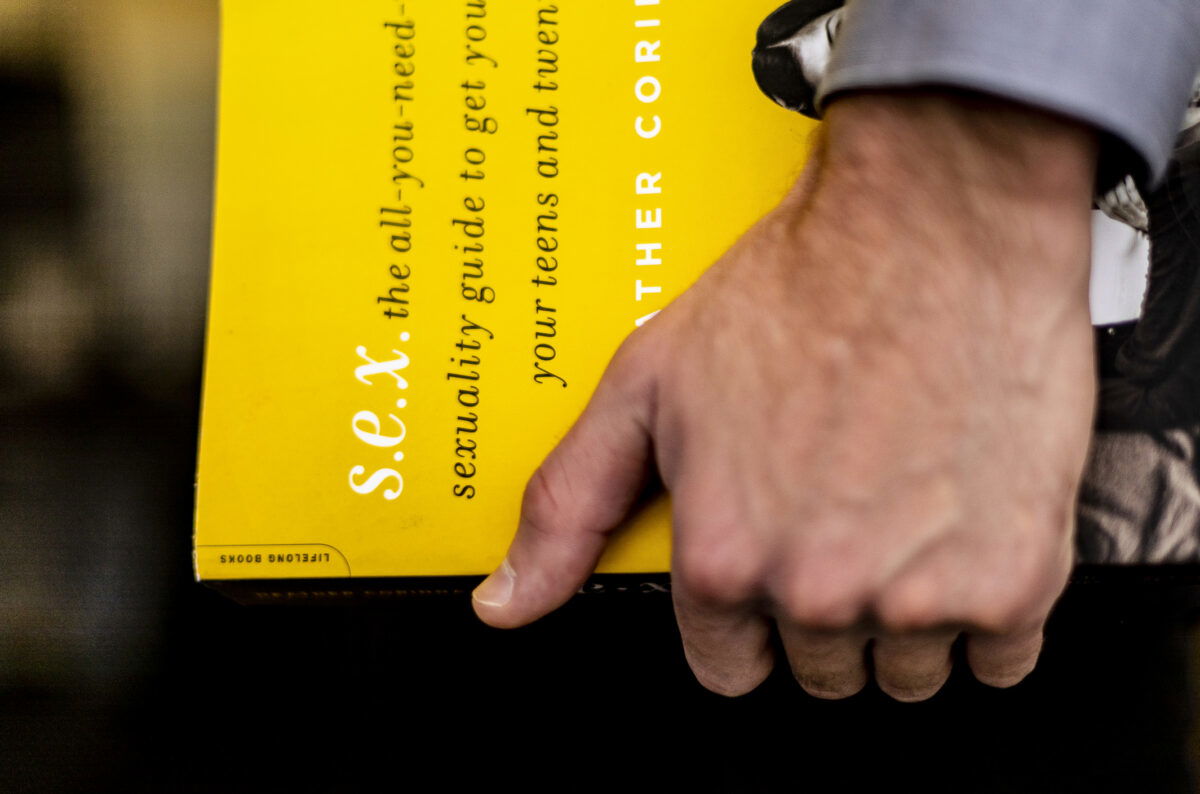 While Bailey's book remains a part of the framework, parents have gotten other books removed, like "S.E.X.: The All You Need to Know Sexuality Guide to Get You Through Your Teens and Twenties" by Heather Corinna.
That 400-page book, which includes graphic imagery of female and male anatomy, runs the gamut of topics, including sexually transmitted diseases, how sex works from start to finish, abortion laws, sexual acts, gender identity, and navigating relationships.
One brief segment in the book provides a manual to fisting, explaining in detail how to properly do it to achieve pleasure.
The book was removed from the guidance for schools and teachers in May 2019 after parents, including Van Der Mark—whose youngest child graduated high school two years ago—protested.
Four others that have been removed include, "My Princess Boy," "The 'What's Happening to My Body?': Book for Boys," "The 'What's Happening to my Body?': Book for Girls," "Who Are You?: The Kids Guide to Gender Identity," and "Changing You!: A Guide to Body Changes and Sexuality." The Epoch Times searched through the K–12 Health Education guidance and identified over 100 books, documentaries, and resources approved by the state for schools to reference.
Only a handful have controversial Amazon reviews, including two approved for grades 4 through 6 entitled, "Will Puberty Last My Whole Life? REAL Answers to Real Questions From Preteens About Body Changes, Sex, and Other Growing Up Stuff" by Julie Metzger and "Sex is a Funny Word: A Book About Bodies, Feelings, and YOU" by Cory Silverberg. Van Der Mark requested in 2019 for these books along with "It's Not the Stork! A Book About Girls, Boys, Babies, Bodies, Families and Friends" by Robie H. Harris to be removed, but was unsuccessful. While some parents are fighting the state's policies, others have had enough.
"The best actions that parents can take to protect their kids includes pulling their children out of public schools and deciding to put them in either private schools or homeschooling," said Brad Dacus, president of the Pacific Justice Institute, a legal defense organization focused on parental rights. "That is the biggest backdoor for parents. Right now, many other parents have decided to simply just leave the state altogether."
Other complaints, Dacus said, that he has heard, include parents of first and second graders who observed their children watching SpongeBob Squarepants cartoons, assigned by their teacher, about sexuality, same-sex relationships, and gender identity dysphoria.
"This is not productive, but actually potentially very harmful to a child who is working to solidify their gender identity and don't need any adversity," Dacus said. "It's almost practically impossible for a parent to expect their child to go through K–12 in a California government school and still hold to their traditional beliefs or traditional religious beliefs."
As such, Dacus has been assisting churches and community groups to start homeschool co-ops.
As some parents are seeking alternative education options, they can "opt" their children out of the state's instruction. An attempt to have a less-passive "opt-in" option for parents with children in sixth grade or younger failed to gain traction in Sacramento in 2020.
During a hearing on that piece of legislation, its sponsor Senator Mike Morrell (R-Rancho Cucamonga) warned parents—hundreds from across the state who had flown to the capitol for the hearing—to stay engaged regarding what is going on in California classrooms or else they would "lose control of the ability to raise their own children."
"We are having our own private version of 'Animal Farm,'" he said at the time, referring to George Orwell's satire book on the road to totalitarianism. "Policymakers in this building want to raise your children."