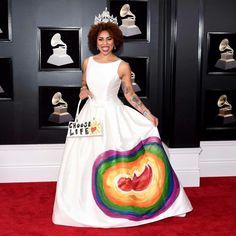 She's a true Patriot. She must drive the left crazy. Black, Latina, and legal.
"[The dress] it's pro-America; you know I am a conservative," Villa said. "This is a patriotic, Miss America type of feel."

When asked by Variety's Audrey Yap how people of color have benefited from the president's policies, Villa said, "I'm black and Latina, I've benefited. My cousins now have jobs. There's more jobs than ever before."
What say you?
https://variety.com/2020/music/news/joy-villa-dress-grammys-trump-impeached-re-elected-1203478738/?jwsource=cl