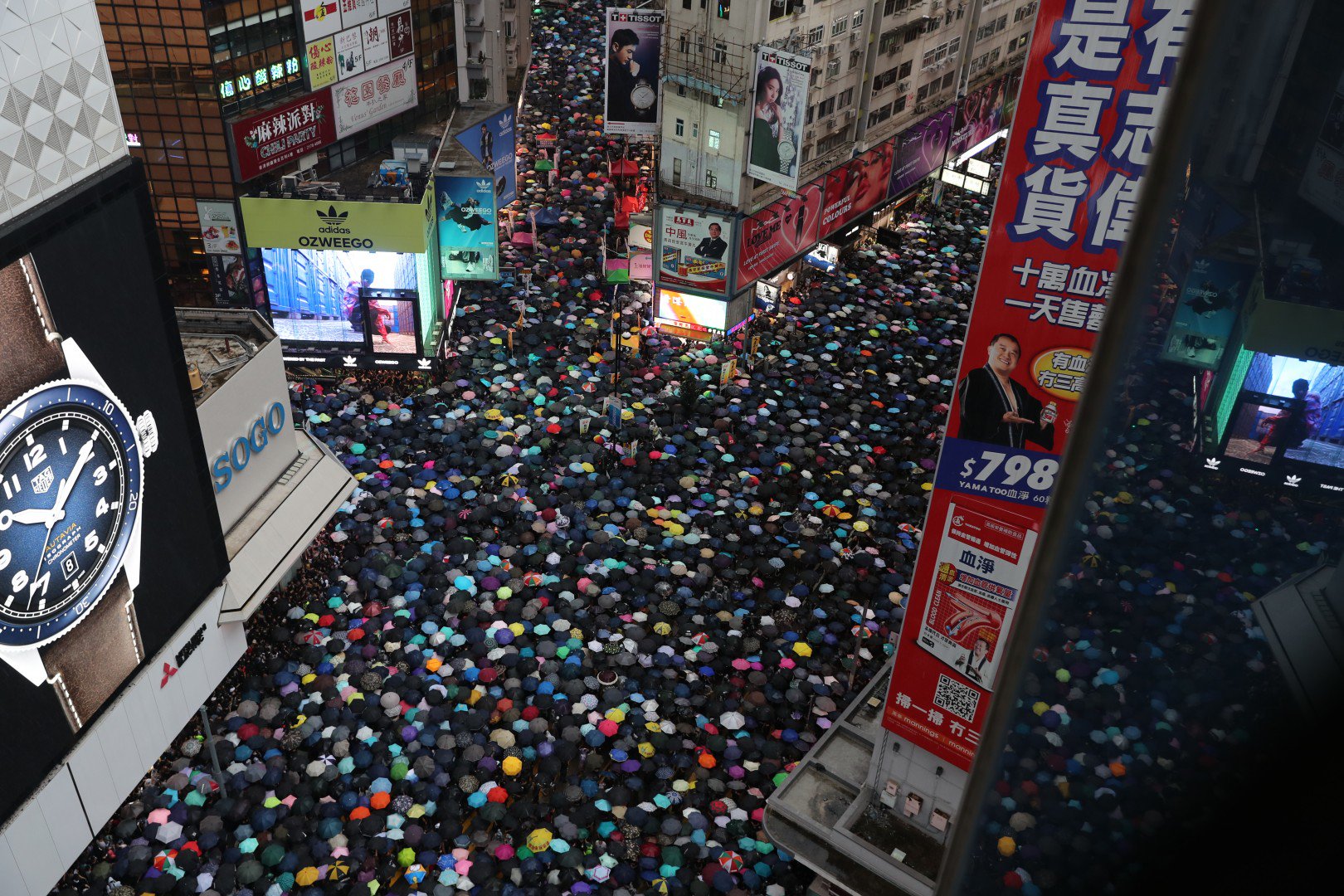 This is not going to end well for either the rioters or Xi. Xi's political future is probably on the line with the trade dean and losing control of Hong Kong.
Lets quickly recap:
Pork is Chinas favorite meat. Home to about 700 million pigs or more than one half of the worlds population this has the power to disrupt China's economy in a very big way.
Xi's stance on dealing with Trump is not going to work. Either he is betting on a Democratic President for 2020 or our own politicians who have personal financial dealings with China to come to his rescuse. I have the feeling that neither are going to happen.
Hong Kong: The August 15th edition of the Economist say the following about Chinas attempt to get the blame game to the US. Quote follows:
"There is something positively alarming about signs that, at some level, Communist Party bosses believe the black-hands story. Neither evidence nor common sense supports the tale's central charge that outsiders tricked or provoked as many as 2m Hong Kongers into joining marches. The accusations began while the protesters were still overwhelmingly peaceful, focused on a planned law that would send suspects from their city's Western-style justice system into Communist-controlled mainland courts. To propagandists in Beijing, no free will has been marshalling those students and pensioners, doctors in hospital scrubs and black-suited lawyers, off-duty civil servants and parents with pushchairs. Instead the protesters are at best dupes, and at worst foreigner-loving race traitors, ashamed of being Chinese."
End Quote
Xi is going to have to choose between losing control of Hong Knog or taking a huge interantional hit in public relations. In a country that holds power to a central committee, it will not go well for Xi.
From one of Chinas news sources:
The day after tens of thousands of protesters took to the streets of Hong Kong, another massive rally is under way at Victoria Park in Causeway Bay on Sunday afternoon.
Relief spread across the city as anti-government protests ended relatively peacefully on Saturday, with no tear gas fired, on the eleventh consecutive weekend of unrest.
Sunday's protest organiser, the Civil Human Rights Front, had applied to the police for a march from Causeway Bay to Central.
But police would only allow a rally within Victoria Park, saying the front could not ensure public safety given violence at recent protests.
Follow our live blog below for the latest updates.
Reporting by Phila Siu, Jeffie Lam, Karen Yeung, Ng Kang-chung, Linda Lew, Chris Lau, Su Xinqi and Danny Mok
6:55PM
Abuse for police
Outside police headquarters on Arsenal Street, Wan Chai, protesters yell "black cops" and "triads". Some point laser beams at the building complex.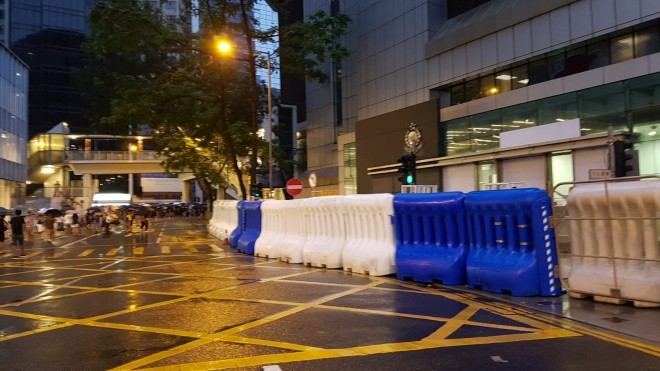 No police are on guard outside the premises, which is heavily guarded by water barricades. Some officers are staying alert inside.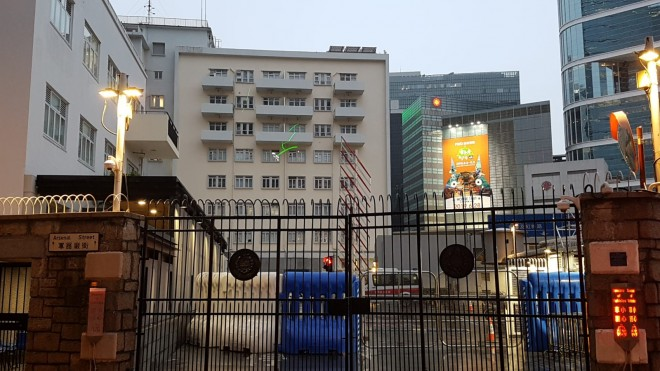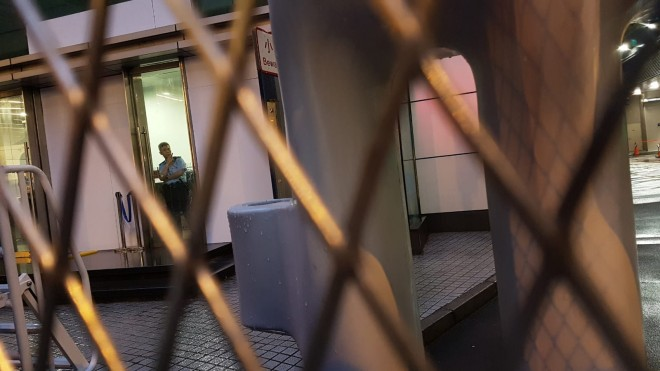 6:51PM
Protecting the liaison office
As protesters continue to march from Causeway Bay to Sheung Wan, no police officers can be seen along the route, except outside Beijing's liaison office.
Hundreds of riot police are on guard on Connaught Road West off Centre Street in Sai Wan, about one block east of the office, which was attacked and defaced during a previous protest.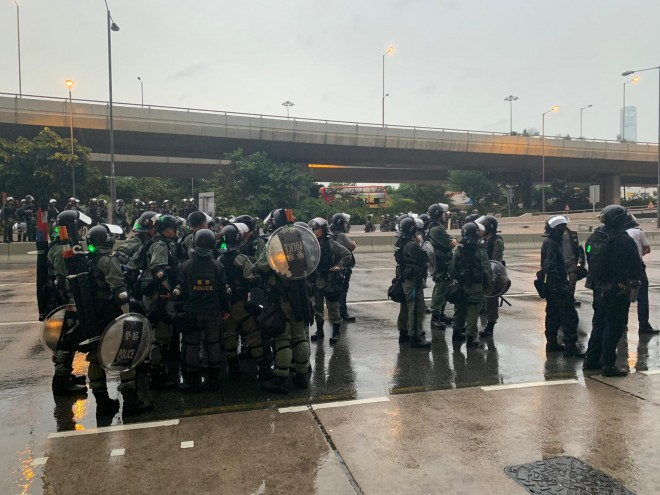 But most protesters are staying in Central once they arrive there. A small group walked all the way to Sheung Wan MTR station, but did not go towards the liaison office.
6:35PM
Good day for flip flops
Protesters seek supplies inside Hysan Place mall.
A salesperson at CPU shoe shop says that, since the heavy rain started at about 3pm, there has been a constant flow of customers buying flip flops.
"Our sales today are even better than at Lunar New Year," she says.
6:23PM
Cross-harbour buses pulled
KMB has suspended all routes via the Cross-Harbour Tunnel, and nine other services, namely the 307, 603, 673, 681, 914, 934, 936 and 948.
Twelve routes are diverted, including the 601, 619, 671, 680, 690, 905, 960, 914, 948, 961, 968 and 978.
6:18PM
Going global
Protests against the Hong Kong government were not confined to Hong Kong this weekend.
Thousands of people demonstrated in Canada, Britain and Australia in support of the city's democracy movement.
Some in attendance ended up facing off against vocal pro-Beijing rallies.
You can read more on the overseas protests
6:12PM
Victoria Park still busy
On the section of Causeway Road outside Victoria Park, and under the now-occupied Moreton Terrace flyover, crowds remain thick.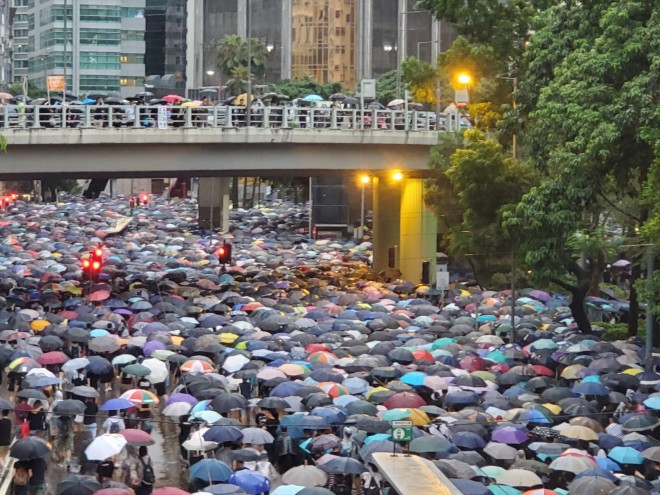 6:08PM
Still on the march
Thousands of protesters are still marching from Causeway Bay to Central.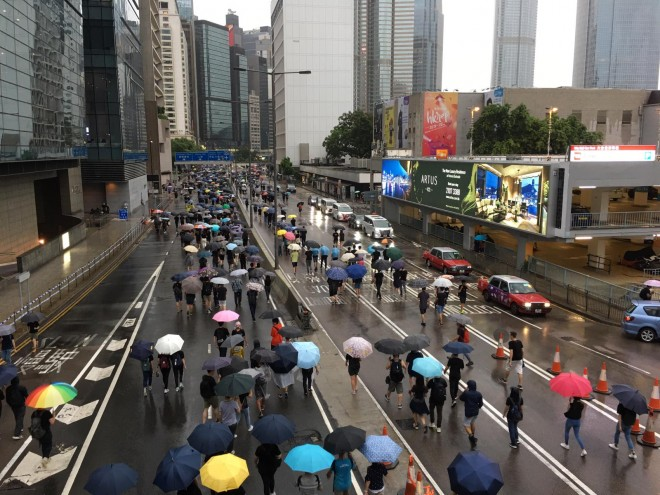 5:34PM
Gridlock
Protesters are packing Hennessy Road in both directions outside Sogo department store. The crowd is barely moving, leaving people stuck in the heavy rain.
5:31PM
Back in Victoria Park...
Protesters are still trying to get out of a very crowded Victoria Park, after attending the rally.
On Moreton Terrace, next to the Central Library, protester May Chan says: "There are so many people. It took me almost two hours to pass through the park and the roads to get here.
"The whole thing has been peaceful. There is no excuse for the police to use force," says Chan, an office clerk who lives in Sha Tin, who came to the rally with a friend.
"I hope the government can satisfy people's demands. Otherwise, Hongkongers will keep taking to the streets," she says.
Time out
Rally-goers have helped clear out shelves in a bakery as they take a break in Times Square shopping centre.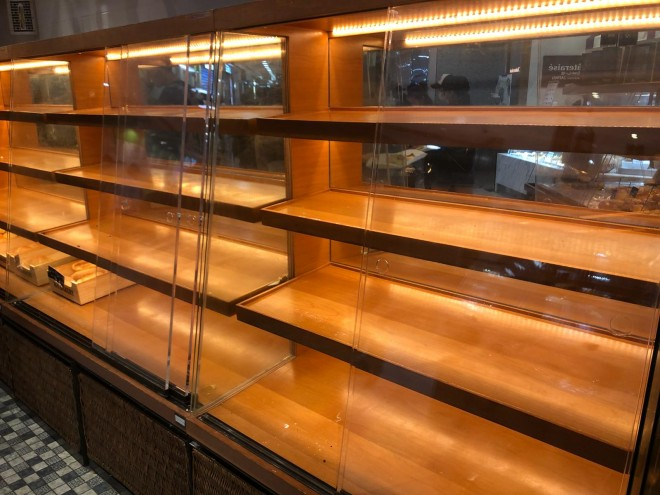 5:24PM
Traffic volunteers
In Causeway Bay, Eric Tsoi and his friend have been directing right-turning traffic onto Shell Street from Kings Road for at least an hour. They had planned to go to Victoria Park for the rally but decided to stop and help.
"I wouldn't have to do this if the police were doing their job properly," the 45-year-old says.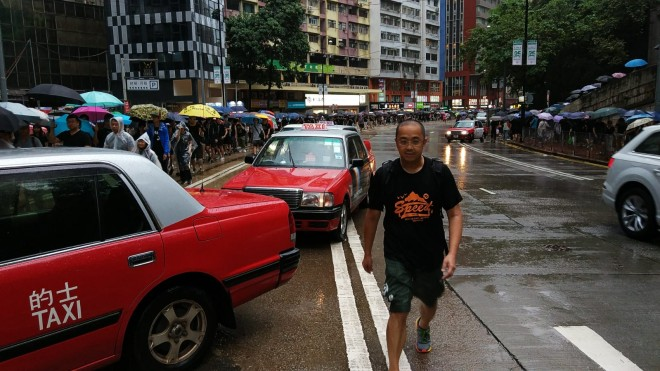 Tsoi, who works in sales, has been to various rallies and marches in the past two months. He is unhappy that the government has not responded to people's demands.
"I feel disappointed and angry. So I will keep stepping out," he says.
5:22PM
Victoria Park still heaving
Hours after the rally started, Victoria Park remains packed, with four football pitches filled with protesters.
Gloucester Road, which runs along the western stretch of the park, is busy with people trying to join the rally, as pictured below.
There is also a sea of people in Causeway Road, which borders the park as well.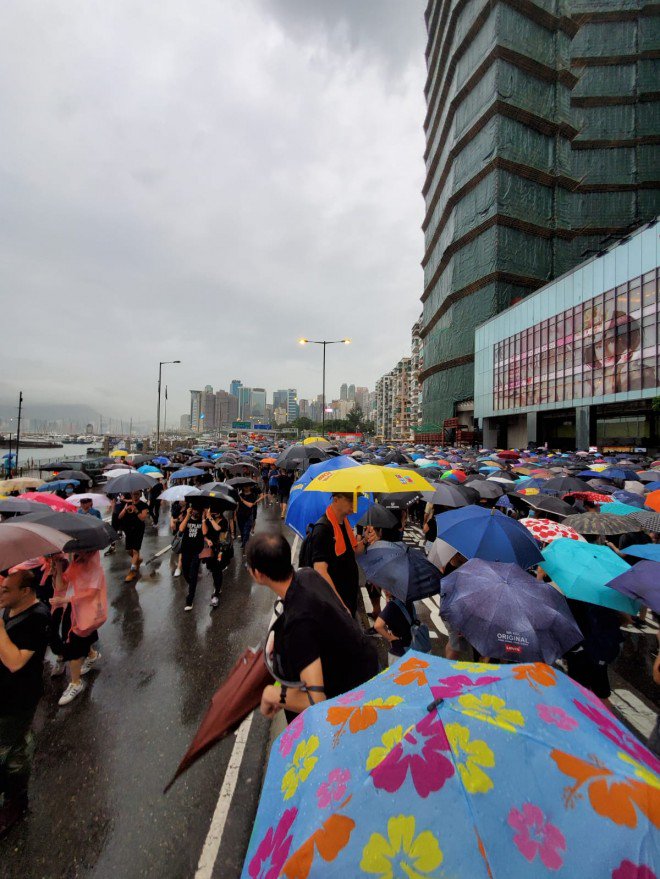 5:13PM
Service reductions on Island line
Some MTR trains have resumed stops at Tin Hau after earlier services passed through as part of crowd control measures.
However, a proportion of trains on the Island line continue to skip Causeway Bay, Tin Hau and Fortress Hill stations.
MTR Corporation earlier said the changes were due to "public activities and raining outside".
4:57PM
Party leader calls for crowds to leave
Labour Party leader Lee Cheuk-yan appealed to the crowd to leave after the head of the procession he jointly led arrived in Chater Garden in Central.
The garden was the end point for a march proposed by the Civil Human Rights Front, which they wanted to start in Victoria Park.
But the march element of their plans was banned by police.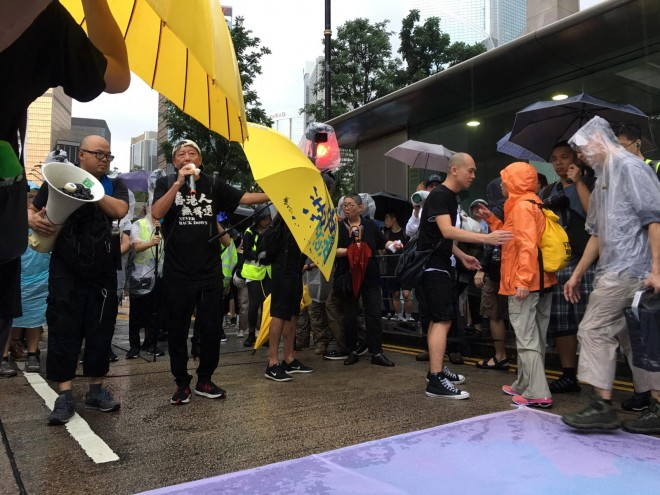 Addressing demonstrators, Lee says the economy is struggling because of the government's failure to listen to people's demands, rather than as a result of the protests.
He adds the massive turnout is a slap in the face for Carrie Lam and showed that Hongkongers are not afraid of the Chinese military, with armed police again seen conducting riot drills over the border in Shenzhen.
3:14PM
Another day of mass protest
Our photographers are capturing the vast scale of the rally in Victoria Park, which organisers estimate will be attended by more than 100,000.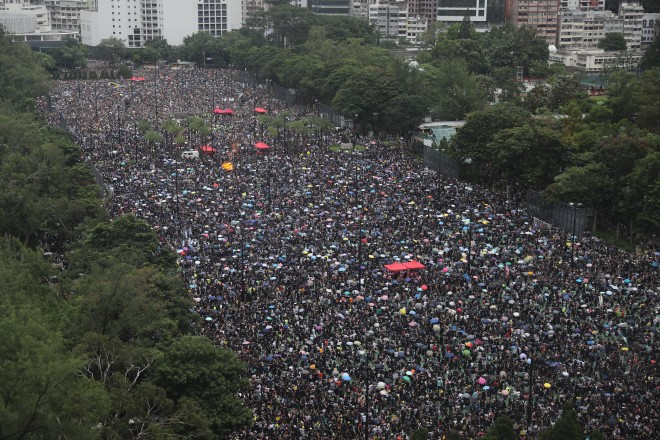 Night time here. Lets see what happens on Monday. Thanks for taking the time to read.