Black Supremacy. Terry Crews defends 'Black supremacy' tweet. Back in 2020 The America's Got Talent host Terry Crews told it like it is in a tweet.
Terry Crews on X: "Defeating White supremacy without White people creates Black supremacy. Equality is the truth. Like it or not, we are all in this together." / X (twitter.com)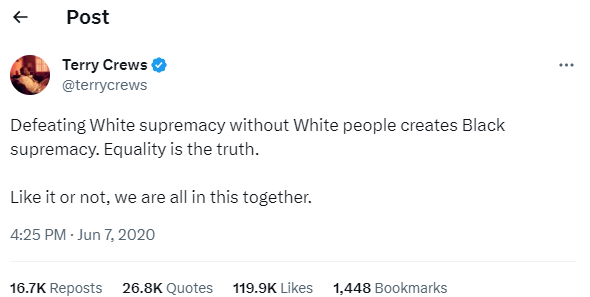 This was during the Floyd riots by BLM and other Black supremacists. Blacks who want special privileges. Like get out of jail for killing whites and other blacks.
Noted Black Supremacist Journalist Karen Hunter tweeted in response: "dude...black supremacy? Really? This statement would have been perfectly fine without that ridiculous phrase. Please read more and/or have someone else craft your tweets. #majorfail. (note: it would have been okay to NOT say anything)."
Why did Crews tell it like it is? "We have people who have decided who is going to be Black and who's not," he continued. "And I simply — because I have a mixed-race wife (Rebecca King-Crews) — have been discounted from the conversation a lot of the time, by very, very militant movements, the Black power movement. I've been called all kinds of things — like an Uncle Tom — simply because I'm successful, simply because I've worked my way out of Flint, Michigan."
Nuff Said.