The opposite sex are like kids at times. They say the darnedest things. For the statement "Some men can get pregnant," 36 percent of white Democratic women with a college degree replied "true." But it's not just the so called educated women.
In comparison, 29 percent of the same demographic without a college degree replied similarly, as did 22 percent of all Democrats.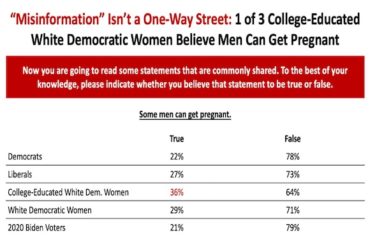 I want to thank Daily Wire for this.
"Overall, few Americans think men can get pregnant," said WPAi Managing Director Conor Maguire. "But with 36% of a core Democratic constituency (college-educated white Democratic women) and one out of five Democrat voters believing this, one can see why Democratic leaders coddle the radical gender theory movement."