(John Ferdricks/The Epoch Times)
By Allan Stein for The Epoch TImes January 21, 2022
A photo showing a Pennsylvania middle school teacher taping a cloth face mask to a young student seated at his desk has sparked condemnation from parents and a public apology from the head of the district's board of school directors. Reading a statement at a Jan. 20, 2022, meeting of the North Penn Board of School Directors, president Tina Stoll said the teacher's conduct was "inappropriate" and an "isolated incident."
The school is located in Lansdale in Montgomery County about 30 miles north of Philadelphia. "First and foremost, I would like to extend an apology on behalf of the district and the Board of School Directors to the student who was involved and to his family. "They did not ask for this incident to occur, nor do they deserve the negative attention that it has brought," Stoll said. "This board can report with total confidence that, upon learning of this incident, the district immediately took steps to investigate the matter and prevent any similar acts from taking place in the future.
"Accountability is paramount to this board, as is communication and responsiveness with the family of the student involved–their input helps to guide the district's actions–we will not let social media influence the facts established by an objective investigation," she added.

Stoll said district officials have been "fully cooperating" with local law enforcement in its investigation of the mask incident at Pennfield Middle School. The photo was posted Jan. 17 on social media showing a special education teacher using tape to secure a face mask to the unidentified student's face. The image immediately went viral, prompting the board to address the issue at the Jan. 20 meeting. "Although it has been determined that this was an isolated incident and that no malice was intended, the actions of the employee were unacceptable, no matter the context.
"The board and administration view this as a serious matter and the board is confident that the administration is addressing it as such," Stoll said. "Because all personnel and student matters are confidential, and due to the role in which the board may be required to serve with respect to impartiality and the due process rights of students and employees, we are bound by law to not comment or provide any further information regarding this specific incident."
"How this has evolved is exactly what I wanted to avoid," the mother wrote, describing the bad publicity as a "scene from my worst nightmare." During the public comment portion a number of parents spoke out against the teacher's actions and the board's handling of the investigation. "The negative attention is on you," said Emily Johnson, who believes it was not an "isolated incident." "These are your decisions. I don't understand why you're doing this to our children," Johnson said.
"It's complete child abuse," another parent told the board. "You are public servants. You are digging your own graves." Parents also drew attention to other controversial issues facing the district, including pornographic literature found in school libraries, white "privilege walks," and a district board that doesn't take input from parents seriously.
"This isn't about public safety—it's about control," said another parent. "It's about controlling our children's minds." Yanni Lambros, who owns a coffee shop in Lansdale, Pennsylvania, asked the board, "Are you following the science or are you following a narrative?"
"Children are taught that they are walking vectors of death," he said. "When does it end?" In September 2021, a substitute teacher at Reedom Elementary School in Las Vegas allegedly taped masks to the faces of pupils. The Clark County School District called it an "isolated incident."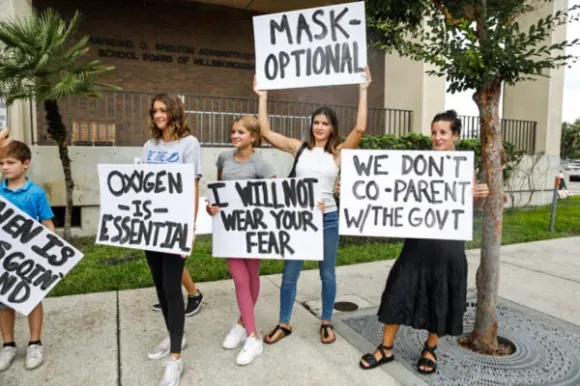 Families protest any potential mask mandates before the Hillsborough County Schools Board meeting held at the district office on July 27, 2021 in Tampa, Florida. (Octavio Jones/Getty Images)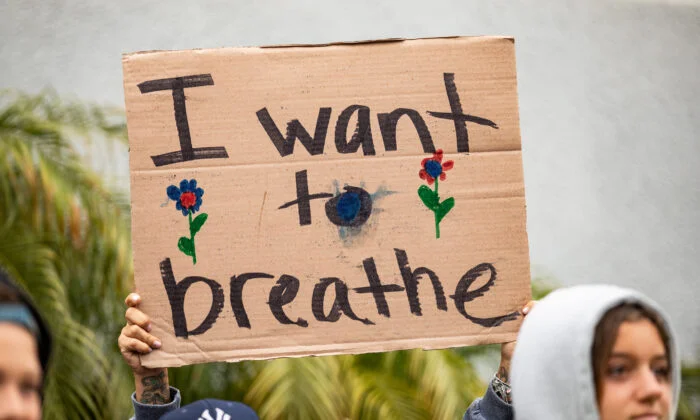 Parents and students gather in protests of wearing masks in schools in front of The Orange County Board of Education in Costa Mesa, Calif., on May 17, 2021. (John Ferdricks/The Epoch Times)