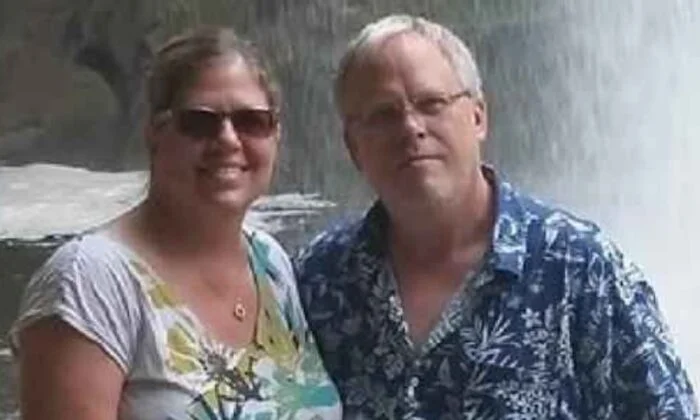 Anne and Scott Quiner at Gooseberry Falls State Park in 2018. (Supplied)
By Matt McGregor For Epoch Times January 22 Updated: January 23, 2022
Anne Quiner's husband Scott died in an undisclosed Texas hospital on Jan. 22 after Anne sought legal counsel to have him transferred out of Mercy Hospital in Coon Rapids, Minnesota, where doctors planned to take Scott off life support. "We got him too late in the process," Quiner's lawyer, Marjorie Holsten, told The Epoch Times.
"We should have gotten him sooner. He was malnourished, dehydrated, and 30 pounds underweight." Holsten said that doctors in Texas reported that they were shocked by Scott's depleted condition when he finally arrived. Doctors at Mercy Hospital told Quiner they were taking Scott off his ventilator because they believed he would not recover due to what they said were his "destroyed lungs from COVID pneumonia," and that their attempts at decreasing sedation only caused him pain.
"Anne is devastated," Holsten said. Quiner had told The Epoch Times that she began to question Mercy Hospital's medical plan for Scott, who was admitted for COVID-19 complications in November, when they refused alternative treatments while keeping him on sedatives and the opioid fentanyl. Her petitions for alternative treatments, as well as to keep Scott on a ventilator, had been met with contempt, Quiner said. In addition, Quiner had been experiencing discrimination from the hospital because of Scott's unvaccinated status, she said.
She had received several random phone calls from people stating they "hope Scott dies; he should have gotten vaccinated," Quiner said. Quiner said some doctors at Mercy Hospital expressed disdain for his unvaccinated status, as heard in one phone call Quiner recorded in which a doctor stated, "Unfortunately, if we could turn back time and he had gotten the vaccine, then he wouldn't be here."
The recording of this conversation that Quiner uploaded on YouTube has now been removed for what YouTube said was a violation of community guidelines. Quiner has not disclosed where in Texas Scott was transferred because of the phone calls she had received and the negative media reports, she said. Scott contracted the CCP (Chinese Communist Party) virus in October and was hospitalized at Mercy Hospital in November.
When doctors notified Quiner that they would be taking Scott off the ventilator on Jan. 13, Anne contacted Minnesota State Rep. Shane Mekeland, who then contacted Stew Peters of The Stew Peters Show. Quiner went on his show to discuss her situation, then Peters and his audience called Mercy Hospital by the thousands, Quiner said, which led to the hospital shutting down its phone lines.
"Our audience flooded the hospital and Frederickson & Byron Law Firm (the firm that represents Mercy Hospital) with calls, making them all aware that the world was watching," Peters told The Epoch Times previously. The Stew Peters Show put together a group that coordinated with a doctor to take Scott's case at the hospital he was transferred to on Jan. 15. Holsten filed a motion for a temporary restraining order that prevented the hospital from taking Scott off the ventilator. Mercy Hospital then hired its own law firm that objected to the temporary restraining order on the basis that Holsten and Quiner's position isn't "supported by medical science." Because of this, Mercy Hospital requested that the court issue an order authorizing the hospital to take Scott off the ventilator.
The judge sided with Holsten, issuing the order based on the standard that irreparable harm would result if not issued, Holsten said. Both Holsten and Quiner said that doctors in Texas were "horrified" by Scott's condition when he arrived. "One doctor said he didn't know how Scott made it out of that hospital alive," Quiner said. "He looked at his chart and said, 'I can't believe the heavy sedating drugs they put him on.'" Allina Health, the hospital system encompassing Mercy Hospital, previously told The Epoch Times that it "has great confidence in the exceptional care provided to our patients, which is administered according to evidence-based practices by our talented and compassionate medical teams.
Due to patient privacy, we cannot comment on care provided to specific patients." It wished "the patient and his family well." After Scott's arrival in Texas on Jan. 20, Holsten said that Scott became responsive and began "making tremendous progress." Holsten said the Quiner family expressed gratitude "for the outpouring of love and support during this difficult time."
-------------------------------------------------------------------------------------Comment from an RN on ET:
As to Mercy Hospital – I hope it goes down in flames and every single Physician that "othered" Scott, should lose their license.
And to those RN's – who did not advocate for Scott, allowed him to become so malnourished and dehydrated – in an ICU of all places – I am ashamed that you are part of my profession.
All RN's know that advocating for patient's is one of their most important roles…
Shame on every single one of you.